LF512 Theology of Leadership (3 credits)
18 – 29 May 2015 (9.00 am to 3.30 pm, Monday to Friday)
What is the biblical basis of the role and responsibilities of a leader? This course will look at the biblical foundations of leadership as well as a biblical evaluation of leadership theories and approaches. The course will enable ministry practitioners to develop a rich theological foundation for thinking about issues of leadership in the Christian community.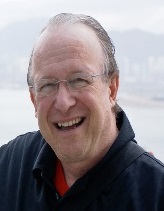 Guy Saffold (EdD)
Dr Guy Saffold has many years of educational and ministry leadership experience. He developed and directed an academic leadership training program and is currently the Special Assistant to the President, Trinity Western University. He is also the Global Director of The Life Project for Power to Change. He is on the Presidents' Council, ACTS Seminaries and an Associate Professor of Theological Studies. He taught this block course at EAST two years ago and many commented how helpful it was.
Deadline for class registration is Friday, 8 May 2015. You may click here to register online or contact us for registration form.